Maya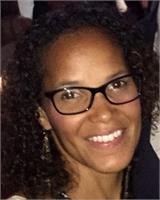 Maya Bullock is an advocate of living a healthy lifestyle and supports all things that promote health, wellness and fitness. She has a B.S. in Kinesiology with a focus on Movement Science and a Dance Minor. Maya has past experience teaching group exercise, water aerobics, and chair aerobics and working with the aging population. She has participated in the bbareless training by Tracey Mallett and is working towards her certification. She currently teaches Barre Sculpt in our Columbia studio and always promises to provide our clients with a good, effective workout.
Maya instructs the following:
[COL] Held at the Columbia Studio. Integrate Pilates principles, yoga, dance conditioning, and muscle sculpting. Using body weight and small weights to high tempo music to strengthen, stretch, and tone all major muscle groups with an aerobic effect. Sculpt the body of a dancer. No dance experience required as this is not a dance class. Suitable for all levels.




[COL] Held at the Columbia Studio. Part mind-body, part foundation building, part strength and totally unique! This new apparatus improves posture, balance and functional movement. Many standing movements will enhance core stability for any fitness endeavor, and make everyday movement more efficient. Flexible soled shoes recommended, but not necessary. Mixed level classes.