Doreen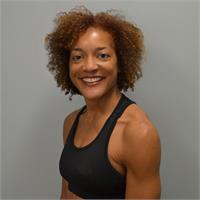 Doreen Sheppard has over fourteen years teaching experience in the fitness industry. She enjoys working with clients one-on-one or in a group setting. She is certified in person training (NASM and ACE), group fitness (AFAA) Resist-A-Ball, and Spinning. She is currently pursuing a Balanced Body Reformer certification. Doreen enjoys running and road cycling in her spare time.
Doreen instructs the following:
[COL] Held at the Columbia Studio. Pilates is a system of movement that focuses on engaging the mind with the body to create exercises that involve the whole body. Every exercise is performed with attention to breath, proper form and efficient movement patterns. Pilates strengthens the core, improves balance, increases coordination and reduces stress. The mat repertoire will challenge you using body weight and small props. With small class sizes, this mixed level class will offer variations and modifications to suit all levels.




[COL] Held at the Columbia Studio. The Reformer utilizes spring resistance to create challenge at times and to provide assistance at other times. This class focuses on building strength and control while focusing on the Pilates principles. For those who have attended a minimum of 1-3 Intro Equipment classes.




[COL] This class is held at the Columbia Studio. Apparatus springs will assist or challenge your workout. Total body resistance workout using Pilates principles. Focus on control of movement. Increase your flexibility, strength, and balance. Suitable for all levels with previous Pilates experience and those who have taken a minimum of 1-3 intro to equipment classes.




[COL] Held at the Columbia Studio. Integrate Pilates principles, yoga, dance conditioning, and muscle sculpting. Using body weight and small weights to high tempo music to strengthen, stretch, and tone all major muscle groups with an aerobic effect. Sculpt the body of a dancer. No dance experience required as this is not a dance class. Suitable for all levels.




[COL] Held at the Columbia Studio. This intermediate to advanced class incorporates all things Pilates, often including the reformer, tower, arc barrel, magic circle, and some mat work. Previous Pilates equipment experience required.

Must have instructor recommendation to participate in this level.