Abril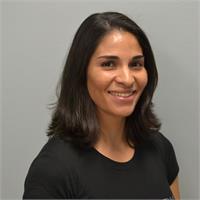 Abril is a Certified AFAA Group Exercise Instructor. She has over 8 years of experience leading classes of different levels and helping participants achieve their fitness goals. She found Yoga and Pilates in 2004 and has been practicing since then. Through personal injuries she has learned to honor her body, and understands the importance of a mindful and consistent practice. Abril completed the 200hr Yoga Alliance RYT in 2012 and currently teaches Reformer, Pilates Mat, Yoga and Les Mills programs.
Abril instructs the following:
[COL] Held at the Columbia Studio. Connect your movement with your breath and flow between poses with grace. In this class practice flowing sequences and sun salutations that balance energy and reduce physical and mental stress. Build strength and endurance, increase balance and flexibility.




[COL] Held at the Columbia Studio. The Reformer utilizes spring resistance to create challenge at times and to provide assistance at other times. This class focuses on building strength and control while focusing on the Pilates principles. For those who have attended a minimum of 1-3 Intro Equipment classes.




Yoga Nidra is also known as Yogic Sleep. It is ancient meditation practice that is performed on Savasana-Corpse Pose (lying on your back) and involves no physical activity. Of all the meditation techniques available, Yoga Nidra may well be one of the most accessible and powerful techniques for individuals of all levels of experience. Yoga Nidra is an incredible practice that will help you recover from any physical, mental or emotional turmoil found in life, as well as alleviating symptoms like fatigue, stress, anxiety and insomnia.

I invite you to join us on a journey that will REJUVENATE YOU and allow you to absorb all the benefits of Yoga Nidra as you feel the lasting effects throughout your day.

What to bring: 1 Pillow and 2 blankets. Comfortable loose clothing. Please wear no perfume and avoid eating a heavy meal within 2 hours of this practice.