Cristina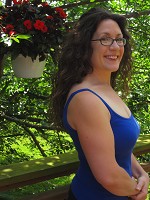 Cristina has been on a wellness journey since 2006, which has led to her losing 115 pounds of fat. She has been certified in HKC- Hardstyle Kettlbell, RKC--Russian Kettlebell and ACE Personal Training. Cristina focuses on building strength and conditioning through Kettlebell training. Her belief is that both men and women can benefit from train- ing with kettlebells to become fit, strong, to lose weight and live healthier and more ener- gized lives. She teaches Kettlebells at both Maple Lawn and Columbia.
Cristina instructs the following:
[ML] Strength and Conditioning: Move well, get strong, and get fit. Using a variety of tools, you will develop mobility, endurance, power and strength in a safe and effective program. This is a C Day program.