Michele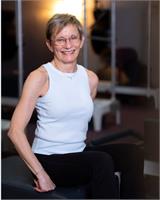 Michele is the Education Director at Coreworks and has been a certified personal trainer since 1993. As a personal trainer, Michele works with doctors and physical therapists helping to rehabilitate patients. In addition, Michele runs the dance conditioning program at Coreworks. Michele teaches all formats of Pilates classes as well as runs the Pilates teacher training program through Balanced Body.
Michele instructs the following:
[COL] Held at the Columbia Studio. Part mind-body, part foundation building, part strength and totally unique! This new apparatus improves posture, balance and functional movement. Many standing movements will enhance core stability for any fitness endeavor, and make everyday movement more efficient. Flexible soled shoes recommended, but not necessary. Mixed level classes.




[COL] Held at the Columbia Studio. Join us to lengthen and strengthen your muscles. Increase body awareness and learn how to move gracefully and safely. Focus on dancer specific challenges and injury prevention through exercise. (ages 8-16)




[COL] Held at the Columbia Studio. Pilates is a system of movement that focuses on engaging the mind with the body to create exercises that involve the whole body. Every exercise is performed with attention to breath, proper form and efficient movement patterns. Pilates strengthens the core, improves balance, increases coordination and reduces stress. The mat repertoire will challenge you using body weight and small props. With small class sizes, this mixed level class will offer variations and modifications to suit all levels.